BBC Students
Encouraging High School students to experience life as a Christ Follower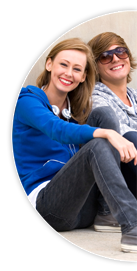 When it comes to Senior High students, we're passionate about three things: transformation, relationships, and experiential design. You'll be involved in transformation on many different levels – from loud and rowdy worship to being passionate about international mission trips. We're very intentional about your relationships and how they effect your world. We want you to be "experientially" living out your faith as well as learning how to defend it; We want to see teenagers who are growing to becoming young adults.
New Here?
What to do when you arrive
When you get on campus, head for the Student Center on Sunday mornings at 11 am. We'll get you checked in, you can meet our Student staff and pastors, then you'll join several hundred high schoolers in a phenomenal worship experience…designed just for you.

Download
Grab a digital copy of our Student Summer Calendar:
Programs
Worship
Sundays at 11 am - Backstage Area of the Student Center
Join us for our Sunday morning student worship experience. We use video, worship, Bible study and small groups to develop you into maturing believers.


Connect Groups
Sundays at 6:30pm - Various Host Homes
We offer small groups for high school students in various homes on Sunday nights. Please contact the SM office for more information. We encourage our high school students to serve in AWANA on Wednesday nights. Contact us to find out more about them or register below:


Want to get involved with a High School Home Connect Group or want more information?


Missions
We have monthly mission experiences for you to serve in the community with one of our local mission partners. We go on two mission trips to Atlanta in the spring, and in the summer we travel on mission to Kenya, Haiti, and Guatemala to work with the orphans of the world and children trapped in sex trading.
We want to encourage our students on a daily basis, so you'll see our staff visiting your and other students' schools, athletic games and events, and interacting on Facebook and Twitter. We'll provide you with leadership development opportunities and places to serve. Areas to serve include our programs, working with project teams, as well as helping out in our Children's programs. Our Senior High Ministry is a thought-out strategy to develop you as a Christ follower who actively lives out their faith, while having a great time doing it!